Yelp has positioned itself as a trusted review site by weeding out questionable and fake reviews, with help from the Yelp filtered review algorithm.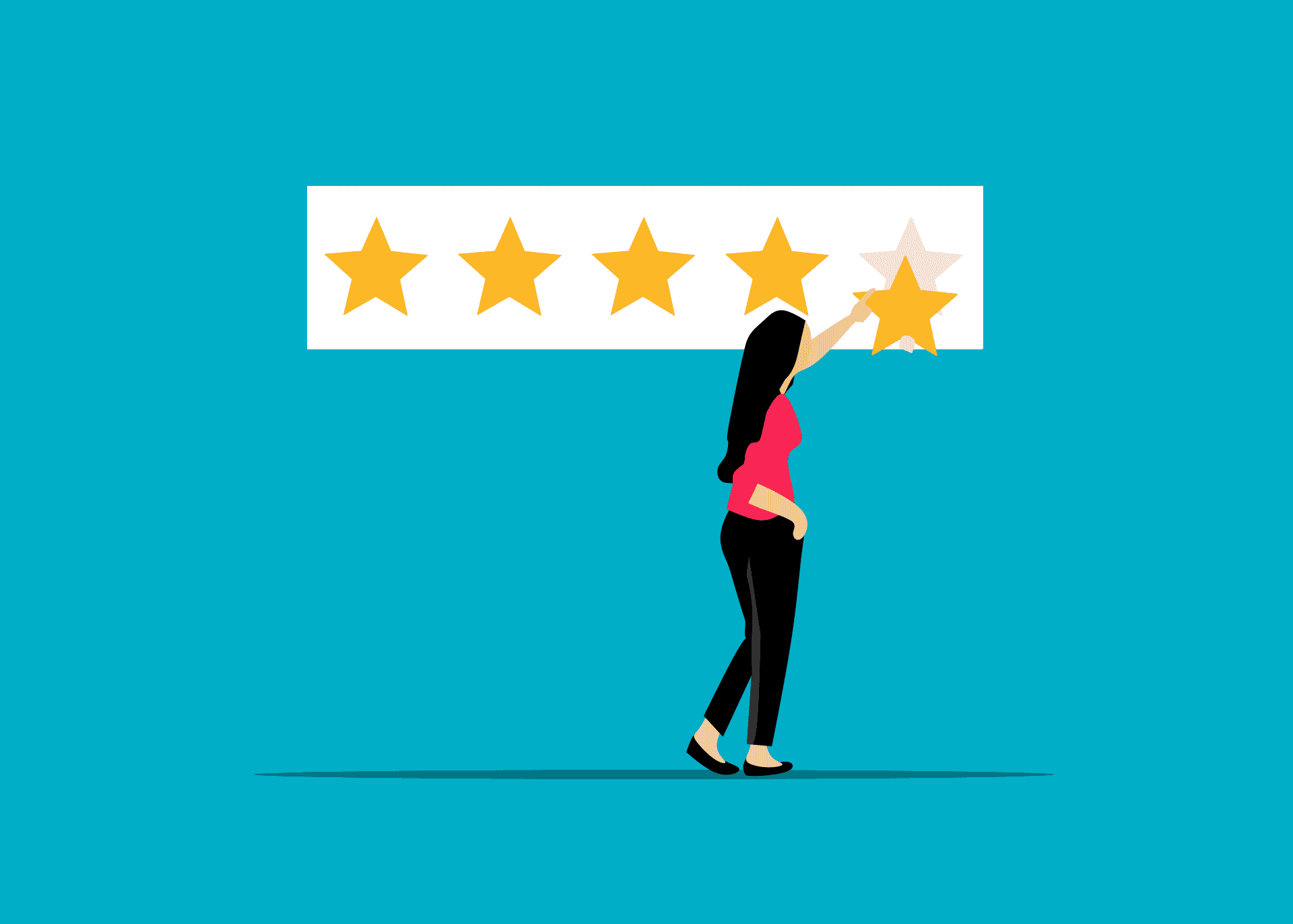 Yelp is one of the largest and most trusted local review sites out there today.
Whether you're looking for a new restaurant to try, a landscaper to spruce up your yard, or are searching for a trustworthy new hairstylist, Yelp has countless businesses and reviews for you to consider.
In fact, 97% of people make a purchase after visiting Yelp.
Yelp Reviews vs Google Reviews: Quality Over Quantity
One of the reasons why Yelp is so prolific and trusted by users is the volume and quality of the Yelp filtered reviews.
While you can also look up businesses on Google, the quality of reviews generally aren't as high. You might just see a star rating without any context, or an over-the-top glowing review that looks fake. Yelp has positioned itself as a trusted review site by weeding out these questionable testimonials, in part with help from Yelp's review filter algorithm.
What is the Yelp Filter?
If your business is on Yelp, chances are you've heard of – or have experienced – the Yelp filter. This filter uses an automated algorithm to hide reviews based on specific attributes. The goal of the filter is to show the most honest and helpful reviews on a Yelp business profile page and filter out solicited or illegitimate reviews.
While the intentions of the Yelp filter are good, many businesses end up frustrated with it when the filter starts hiding authentic and positive testimonials. The reviews that are hidden by the filter don't count towards your overall star rating, so if the Yelp filter is hiding a lot of your positive reviews, you might feel the negative impact of it in your overall rating.
Why Does Yelp's Filter Hide Reviews?
There are a couple of reasons why your reviews might be hidden by the Yelp filter. These reasons primarily deal with the reviewer's account, the substance of the review, and whether it violates Yelp's guidelines.
The Yelp Profile is Too New
If someone's Yelp profile appears too new, it can send a red flag to the Yelp filter. According to Yelp, newer profiles are more likely to be fake, or solely created to leave a review.
A Yelp profile can be deemed too new in a couple of ways.
The user doesn't have very many friends
The user hasn't left many reviews
The user has no profile information
Think of bots and how they typically don't have a lot of friends, profile information, or a profile picture. That probably raises some questions for you, and the same logic applies to the Yelp filter.
A Review is Too Positive or Negative
One of the more frustrating aspects of the Yelp filter is when a great and unsolicited review is hidden.
It might feel like all your hard work of going above and beyond to make your customers happy is for nothing if Yelp simply filters out that review from your profile. But the Yelp filter thinks that overly positive or negative reviews aren't the most trustful or useful, so they end up hiding those reviews.
Reviews that are too positive run a higher risk of being solicited by the company – a big no when it comes to Yelp reviews. The logic behind this makes sense on a surface level. If you know your customer is extremely happy with your services, why not ask them to review you for a slam-dunk positive testimonial?
Reviews that are overly negative aren't very useful to other users. If there isn't any substance to the review besides a scathing account of how horrible the company is, it might be filtered out as well.
Unfortunately, overly positive reviews are more victim to the Yelp filter than negative ones. While we as humans understand that someone might be blown away by a business or service and want to rave about them online, the Yelp filter finds this suspect and will most likely hide it – unless it's from an established Yelper with no suspicion of solicitation.
The Review is Too Short or Not Useful
Similar to the bullet above, if the review is too short and simply says something along the lines of, "Service was great!" it runs a high risk of being hidden.
The main reason is that it's just not useful for a potential customer. Saying the service was great doesn't give you a lot of information. For example, if you're at a restaurant, was the service great because the food came out quickly? Or did your waiter go above and beyond for you when the food came out slower than expected?
The more information a review contains, the more useful Yelp will deem it, and the chances it will be hidden will decrease.
A Review is Solicited
Many of our clients complain about reviews being removed when they know it's a genuine testimonial because they asked the customer to review them, and they did so from their office location…
Remember, it is against Yelp's guidelines to solicit reviews. If their algorithm has any suspicion a review was solicited, effectively cherry-picking the pool of reviews for positive ones and thus removing the "natural" and unbiased aspect of their offering, it will be removed.
Keep in mind that having links in your email or social media for customers to review you can also be flagged as solicited reviews. Yelp can see where that person came from by the UTM parameters and determine that you specifically sent someone to your Yelp profile to review it. This is a big red flag for Yelp, and it can result in that review being hidden.
The Review Violates Yelp's Guidelines
Probably the most straightforward reason a review will be hidden by the Yelp filter is that it violates Yelp's guidelines. If a review falls under any of the categories below, it will be hidden.
Conflicts of interest
If someone who works for your company reviews your company, that would be deemed as a conflict of interest. The same goes for friends or family.
Inappropriate content
This includes inappropriate language or graphic details.
Privacy
If a review includes personal information or images of another person without their permission, it's a violation of Yelp's guidelines.
Promotional content
This would include promoting your own business or services in a review.
Relevance
For example, if a review includes a political rant that isn't relevant to the company, it goes against Yelp's guidelines.
Intellectual Property
Reviewers shouldn't steal other's content or reviews and post it as their own.
Ways Around the Yelp Filter
Although it's certainly disheartening when a great review is hidden, don't stop going above and beyond for your customers. While there's not much a company can do to affect the Yelp filtering reviews, there are some small ways to make an impact.
If you think a great review is hidden because the profile is too new, you can add that user as a friend and mark the review as helpful. Be sure to never ask or even pay someone to review your business. Along similar lines, don't offer a promotion to Yelpers in exchange for a review.
Instead of asking your customers to review you, you can encourage them to check-in on Yelp. They'll even send you stickers and signage encouraging your visitors to interact with you on Yelp. And if afterwards, the customer hasn't naturally reviewed your business, Yelp will follow up with them to see how their experience was – essentially asking for a review on your behalf.
By having customers check-in on Yelp, you can let Yelp do the hard work of asking for reviews, which makes it pass their no-solicitation test, too.
It's also a general recommendation to avoid asking friends or family to review your business. The Yelp filter algorithm will spot your mom's shining review in an instant.
Other Ways to Improve Your Yelp Profile
Great reviews might lead to people clicking on your Yelp business page, but what happens once they get to your page? Is it optimized for conversions? Is it complete with information about your business and services?
Beyond reviews alone, there are other ways to make your Yelp business profile stand out from the crowd with the couple of tips below.
Claim Your Free Business Profile
The first step is claiming your free business profile if you haven't already. Chances are that your business might already be on Yelp. Create a business login and claim that page to get started.
Ensure your profile is complete and up-to-date with information. This includes your hours of operation, service areas, phone number, and website to start with. You'll also want a great company description that explains why someone should choose your company over a competitor.
Make sure you're always updating your Yelp profile too. If you offer a new service, or change locations, update it on your business profile. Keeping your profile current will show users you're active and can trust that the information listed is accurate.
Respond to Reviews
Always respond to reviews – positive or negative, hidden or unhidden – on your profile. This shows potential customers you're active and take into consideration what your customers are saying about your business.
Along with this is staying on top of reviews you should report. Sometimes even with the Yelp filter, a negative review that isn't legitimate will stay on your profile. If this happens, you should flag it for review. Keeping track of negative reviews that are spam will hopefully help your overall star rating.
Include Product Pictures
Be sure to include pictures of your product or service. Pictures are worth a thousand words, after all. Include delicious photos of your most popular meals if you're a restaurant. If you're a nail salon, showcase your favorite nail designs you've done. If you're a roofing company, before and after photos of your roof work can go a long way. These are just a couple of ways you can optimize your Yelp page for local business.
Consider Yelp Advertising
Yelp has made it clear that advertising with them has no effect on reviews or the organic search aspect of their site/app. However, advertising with yelp can still be a very profitable source of leads, often eclipsing the ROI of other forms of online advertising, such as Google Ads or Facebook Ads.
You can also look into Yelp ads if you're seeking additional exposure on the platform. There are different packages and upgrades you can choose from to tailor to your business needs. In the majority of cases, Yelp ads are effective at increasing your local business presence and driving conversions on your profile.
If you need additional help or advice for maximizing your company's Yelp presence, contact Jack & Bean. We are a Yelp certified partner and can help grow your business through Yelp.
Yelp Reviews
With all of its imperfections, the Yelp filter is there to genuinely help out businesses – although it might not feel like it sometimes. The key is playing by the rules to get the most of Yelp's powerful review platform. Be sure to never ask for reviews on Yelp. Take a few extra minutes to mark your reviews as useful when you receive them to combat them being filtered. And always respond to your reviews, whether they're positive or negative.