Overview of Our SEO Audit Service
Are you struggling to rank with Google and aren't sure why?
Could you benefit from a baseline analysis of where your website and domain are from a technical SEO perspective?
At Jack & Bean, we utilize the industry's best tools to analyze your site for a complete picture of your online health. We then create actionable strategy recommendations to boost your SEO visibility online.
Our SEO audit includes:
An on-page technical SEO report that checks hundreds of aspects of your website.
An on-page content analysis that contextually reviews your website's content.
An off-page organic SEO report identifying external factors affecting your site's SEO.
SEO strategy recommendations reviewing the audit's findings and next steps.
The vast majority of sites have not undergone a quality SEO audit. If yours is one such site, you stand to benefit greatly from a range of on-page SEO improvements. We'll also help you implement processes to upkeep your SEO health moving forward.
And of course, every website has room for off-page SEO improvement. We'll include some baseline strategy findings to give you an idea of where you stand in relation to your closest competitors and actions we recommend to overtake them organically.
SEO Audit Service Pricing
Up to 10,000 URLs
One low price!
SEO Audit
Up to 10,000 URLs analyzed
On-page technical SEO audit report
Off-page organic SEO report
SEO strategy recommendations
SEO Audit Service Details
On-page technical SEO audit report
We allow for up to 10,000 internal URLs to be included in your SEO audit. This is more than enough for the vast majority of websites, which typically only have a couple thousand at most.
Our extensive crawl includes web pages, media, and any other linkable assets and resources – such as CSS or JS files. In the unlikely event your website pushes that 10,000 URL limit, we can exclude certain file types or directories to pare down the results until we're under and you're happy with the scope included.
An overview of your SEO audit will be provided in a PDF format. Your audit overview will include a technical health score out of 100, the number of issues by priority, and various other useful metrics.
The bulk of the SEO audit will be a collection of dozens (sometimes over 100) of technical issues in organized individual spreadsheets for comprehensive analysis and addressing. Each issue spreadsheet provided is sorted by three categories: priority, type, and name. All three categories are in the filename for precise and granular grouping:
Issue priority – most to least important: errors, warnings, and notices.
Issue type – performance, HTML, social, content, links, resources, external, etc.
Issue name – 404 page, missing alt text, redirect chain, orphan page, etc.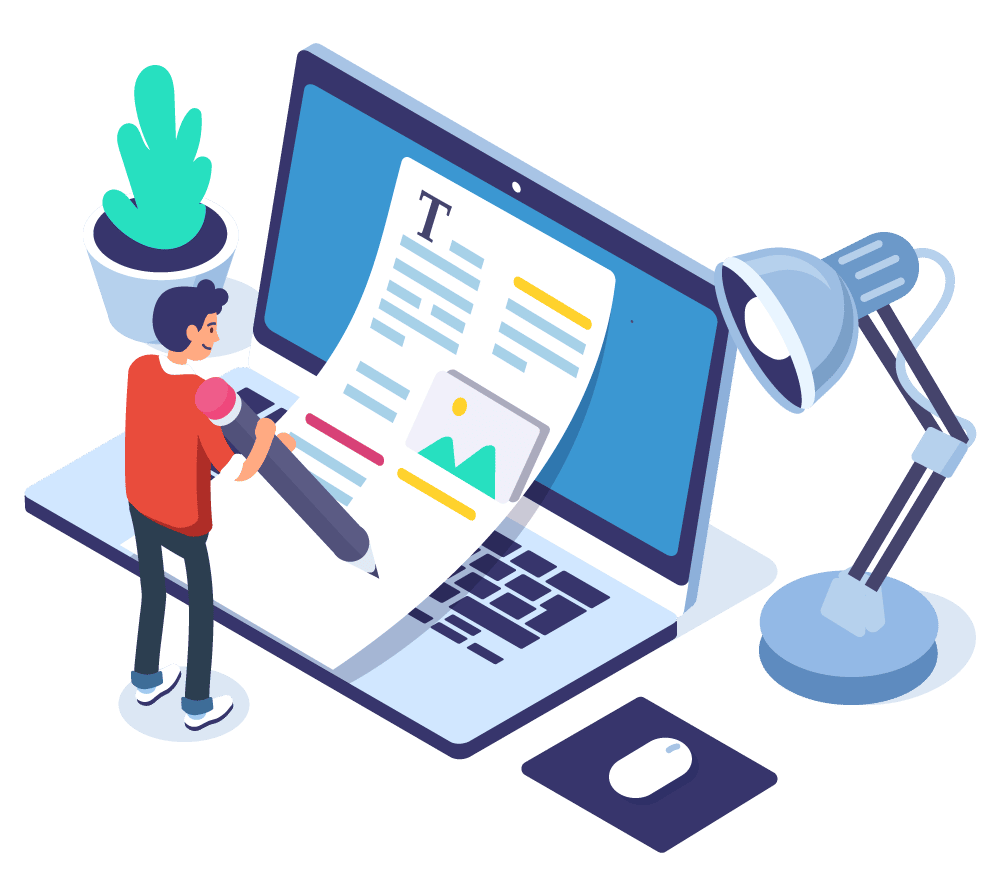 On-page content analysis
A complement to both the technical audit (above) and your off-page factors (below), we also audit your website's content contextually.
This content analysis will take into account factors such as how much (or little) content you have, the length of it, its perceived quality, and the viability of the keyword topics being written about.
We will also include detailed spreadsheets of your domain's organic keywords that you rank for, what your top organic pages are internally based on those keywords, and other useful information.
This analysis also provides the backing for some of the most long-term actionable goals to consider pursuing, providing immense value for your efforts for years to come.
Off-page organic SEO report
An overview of your domain's external SEO metrics will be provided in a PDF format. This off-page-focused overview will include the number domains linking to your domain, the number of total links and their types/metrics, the amount of organic traffic estimated based on indexed keywords and your rankings, and much more.
Several of the metrics may have chronological data as well, informing trends related to your off-page SEO health.
For our competitor analysis, we provide dozens of your metrics compared directly with your competitors. This lets you see where your and your competitors' strengths and weaknesses lie organically.
But what do all the numbers mean? To supplement the mounds of off-page data, we provide insightful context in your strategy writeup to give you a clear picture of your off-page SEO status. Our context will also extend to any action you should take immediately, as well as any recommendations for long-term organic growth.
SEO strategy recommendations
This section of our audit is often the favorite of clients. After all the data is presented in the on-page and off-page report components, we extrapolate what it all means and infers.
First, we'll explain any context related to individual components of the audit: on-page technical aspects, on-page content aspects, and off-page SEO aspects.
Next, we'll discuss any interactions they have with each other and more complex findings related to such interactions.
Finally, we'll provide a clear set of strategy recommendations. These can be as simple as improving your on-page health and content quality to strategizing about large content marketing efforts to close the gap with competitors.
How our SEO audit service works
To begin the technical side of your audit, our tool sets will need to verify our permission to crawl and analyze your website extensively, typically done through a DNS record entry or a file upload.
We then will run our analyses, occasionally several times if we have any errors or restrictions, and may request additional access or collaborate with your web/IT team to address any concerns during this portion.
Once we have our data collected, we spend a few days analyzing our findings and organizing key components into deliverables for your team.
Finally, we will create a write-up contextualizing the numbers and what they imply, as well as making various recommendations for both on-page and off-page actions.
Why invest in a technical SEO audit?
Our SEO audit deliverables are tailored towards clients who want to improve the user experience and organic rankings of established websites.
A recommendation for a technical SEO audit often originates upon hearing about specific concerns.These concerns can range from certain pages not showing up in rankings alongside competitors whose pages seem similar/inferior from a content standpoint, to simply having a slow website.
Our SEO audits cover an extremely broad and comprehensive range of technical aspects, while also providing in-depth analysis in a number of areas. Our audits are guaranteed to reveal significant SEO improvement potential of your site – or in extremely rare cases, reveal that it's already in excellent order (though this virtually never happens).
Furthermore, we'll provide a top-level overview of your organic profile based on external factors, such as backlinks and competitor comparison, and provide some brief strategy recommendations and action items for those findings as well.
We can also provide technical SEO oversight as part of a website build or refresh, which is often a great time to make significant changes to on-page structure and processes.
Regardless of your concern, an SEO audit is almost certain to produce many hours of actionable improvement for your team to implement, and limitless strategy to continue growth into the future.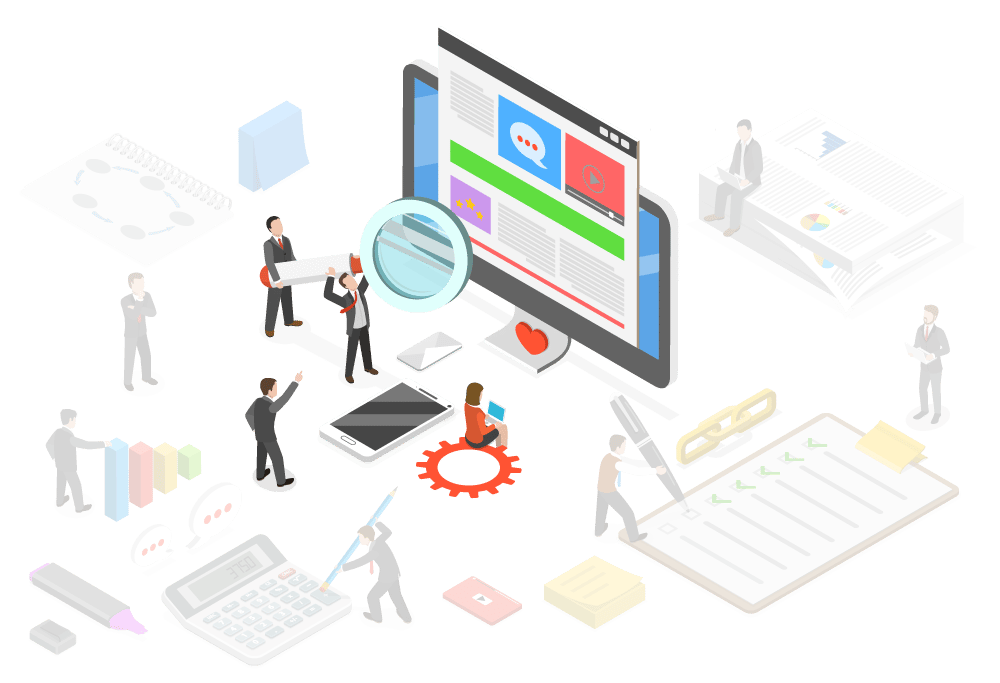 Auditing on-page SEO
On-page SEO is the direct optimization of a website in order to improve search engine rankings. In other words, on-page SEO is what you can affect directly on your website to improve SEO. It is also sometimes called on-site SEO, a less popular term that we find helps a bit with context.
On-page SEO by definition encompasses technical SEO, keyword optimization, and even content creation for the purposes of improving SERP rankings.
Technical SEO
Although comprehensive in its analysis, our SEO audit primarily focuses on the technical aspects (links, performance, etc.), which we consider to be the foundation of your website's ability to rank organically.
Even the best website content can be disregarded by or even intentionally hidden from search engines. Ensuring your site's technical SEO foundation is optimized for maximum exposure to and approval by Google is paramount to excelling organically.
Content Quality and Quantity for SEO
In addition to technical aspects, we also consider more contextual components such as quality and quantity of content, which affect SERP rankings, too.
Once your website's technical foundation is optimized (and maintained) you can shift your focus, if desired, towards content creation. This shift can help your website continue ranking higher and for more keywords, and in turn grow your organic traffic and business online. This would be informed content publication on your own website, such as blogs and expanding/improving existing pages. We offer a range of services to assist with this, from keyword research and content briefs to full-scale content marketing campaigns.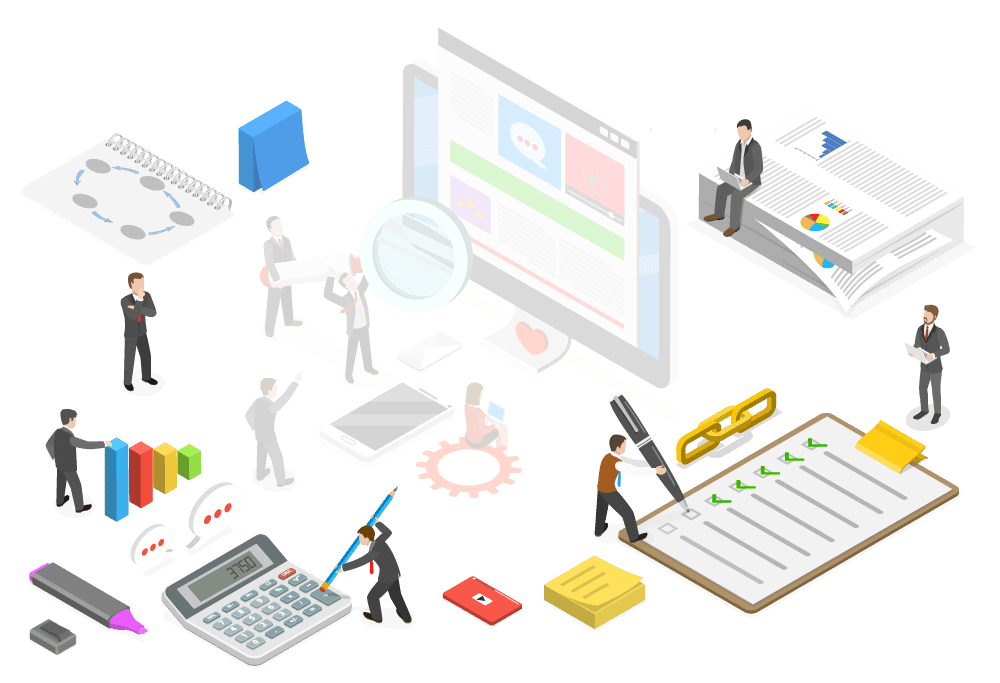 Auditing off-page SEO
Off-page SEO is simply all external promotion of a website with the intent of improving its search engine rankings. The most notable form of off-page SEO is quality backlink building. Measuring these links and their authority is paramount to understanding your domain's own profile and authority.
Our SEO audit will crawl and list all of the sites linking to your website, the types of links, the strength of them, and other factors. We will provide context for the status quo and how we recommend improving this should you have interest in off-page SEO.
Backlinks explained
For context, backlinks are simply links from other websites to your website. Backlinks are Google's strongest indicator of content quality at scale. Because of this, Google also weights the quality of the domains linking to your website as well.
For example, a single authoritative backlink from the New York Times will produce much greater rankings than 100 backlinks from low domain rating (DR) or unknown websites.
The significance of the page on the website linked to you matters as well. Being on the homepage versus buried in an ancient blog post makes a massive difference.
Link order on the web page itself also matters. Being closer to the top of the page is weighted much higher than being in the footer.
There are plenty of other factors such as the link type, anchor text, and more that Google considers in the quality of a backlink, but the point is you want lots of them and you want them to be high-quality.
The best way to build authoritative links to your website is to write and promote high quality, link-worthy content.
At Jack & Bean, we provide quality content writing, guest blogging and backlink outreach as part of our SEO packages.