Every business's SEO service needs are unique. At Jack & Bean, we're happy to consult to customize your SEO service plan to fit your individual business's needs. Your business size, industry, competition, and existing SEO profile are just a few of many factors we consider.
Although we offer some popular SEO plan configurations on our website, we recommend you have a quick call with us to discuss what scope of SEO service your business should engage us for and get a custom quote if appropriate.
Basic
50 keywords optimized & tracked
10 pages optimized
3 quarterly assets
Dedicated project manager
Project management portal access
Quarterly strategy/planning call
Website analytics
Reporting: monthly email
Growth
100 keywords optimized & tracked
20 pages optimized
6 quarterly assets
Dedicated project manager
Project management portal access
Quarterly strategy/planning call
Website analytics
Reporting: monthly video call + email
Scale
200 keywords optimized & tracked
40 pages optimized
12 quarterly assets
Dedicated project manager
Project management portal access
Quarterly strategy/planning call
Website analytics
Reporting: monthly video call + email
Phone call & lead tracking
Summary of Our SEO Services
Content Strategy
All of our content marketing engagements include top-level strategy and planning customized to your brand's authority, your audience's needs, your competition, and your business goals.
Keyword Research
We then perform in-depth audience, competitor, and keyword research and compile a prioritized queue of deliverables. Written content topics' research findings are expanded into writing briefs that maximize the final deliverables' performance.
Content Creation
Our experienced team of writers and designers craft the content pieces queued from topic research according to your engagement scope, such as blog posts, infographics or videos.
Technical SEO & SEO Markup
Our content marketing services are inclusive of SEO best practices for all content deliverables, whether written or visual.
Publication & Promotion
We publish to your website/CMS and implement optimizations, and as add-on also provide off-page promotions services such as backlink and PR outreach.
Reporting & Analysis
Our content marketing services include monthly summary emails, calls and an online portal to track and comment on your current projects.
"Jack & Bean was able to meet our budget and timeline, and the quality of the product was great. They provide a high level of customer service and support. Their team establishes a smooth workflow to ensure both sides are on the same page throughout the project."
NOTE: Many of our services and deliverable types can be requested a la carte. However, we recommend one of our popular packages or a custom SEO plan suited to your exact needs.
Having created tens of thousands of content deliverables, our agency is adept at facilitating the creation of any content type, and we have clients who engage us for content creation without organic consideration.
However, the vast majority of content deliverables we create are part of an organic-focused content marketing campaign. These campaigns are intended to draw in sustainable organic traffic that compounds with time. This is where our passion and most potent expertise lies, and is the process explained below.
Content Strategy & Planning
Although content strategy is an ongoing service we employ for all of our content marketing engagements, It is most prominently undergone during client onboarding.
When we onboard you as a client, your dedicated project manager and supporting team spends time getting to know you and your business through multiple avenues. We will have several collaborative meetings, ask pointed questions, collect crucial information from you and analyze your brand's online profile with multiple professional tools.
We then extrapolate content marketing strategy recommendations, combining the findings from our data with the contextual discussions we've had. We create one or more proposals for a monthly content marketing engagement, quantify deliverables and our intended goals.
Content Strategy Example 1: Big Business with Poor Rankings
In one theoretical example, you might have an established brand with an authoritative domain and lots of blog articles that aren't ranking well. You probably need expert keyword research to help both revise your existing content and properly guide future content efforts.
In addition to a one-time audit of your existing content, we might propose a monthly split of data-driven writing briefs for revising existing articles and a few new SEO articles completed start-to-finish by us. Once the existing articles are revised, the monthly budget for those can be reallocated to other content marketing efforts.
Content Strategy Example 2: Young Business with No Authority
In another theoretical example, you might have a less-established company that has minimal content and very little online presence. In addition to quality content, you need links from other websites back to that content to validate its legitimacy to Google. This content strategy builds a foundation of quality backlinks and proves to Google that you are an authoritative source for information for the content pieces we help you produce.
We might propose a one-time audit of your 3rd-party web presence, and recommend a monthly backlink outreach effort alongside a content creation campaign. If your content begins to rank well, we can scale back on outreach and focus more of your budget towards 1st party content creation and publication. But if your content struggles to gain traction with rankings, we might scale up backlink outreach more until your domain's authority has begun to allow your content to rank in SERPs.
All Clients Are Unique – And All Clients Need Content Strategy
In reality, most of our clients fall somewhere in-between the two above examples, and require a combination of content creation and complimentary backlink outreach.
Every client is different; yet every client needs ongoing strategy to ensure their content marketing budget is being applied in the most appropriate ways. In both of the above examples, we identify initial needs, address them, and then pivot our efforts based on ongoing strategy considerations.
At Jack & Bean, we love the challenge of identifying the best content strategies for each of our unique clients.
Keyword Research & Writing Briefs
Similar to top-level content strategy, our keyword research is an ongoing effort that has a hefty upfront component during client onboarding. This recurring service ensures we find the most lucrative and relevant topics for your audience to maximize engagement and SEO returns.
Informed by our strategy findings, our SEO specialists perform in-depth audience, competitor, and keyword research to compile a prioritized queue of topics. We then create deliverables (writing briefs) for those topics for our writers' use. Most of the queued topics we find will be written topics, but occasionally we will identify graphic and video opportunities as well.
We use a slew of industry tools during our research and analysis, but our agency's SEO tool of choice for organic research is Ahrefs. Other prominent tools (some of which we also use) include SEMrush and Moz.
We consider our keyword research and related writing briefs to be our most unique and powerful offerings as a boutique content marketing agency. We also offer them as an a la carte keyword research service as well.
Content Creation
The bulk of our content creation takes place in the form of written pieces such as blog articles, web page copywriting, and long-form content like case studies. The remainder includes forms such as infographics, videos and in some rarer cases, audio-only and podcasts.
We rely heavily on our keyword research services to determine the appropriate deliverable(s) for any given topic, which can end up being two or more content types, such as a blog supported by a video.
Our agency's writing process typically includes distinct outline and draft phases, and our creative deliverables offer 2 rounds of revisions by default.
Quality is a huge focus for us. When drafting written content we utilize Textmetrics, a proprietary writing software solution. Textmetrics helps actively manage prose, reading difficulty, passive/active voice, feminine/masculine/neutral tone, sentence and paragraph length, and much more as we draft your content pieces. This helps us create quality content that accurately matches the profile of your audience.
At least two writers (or one designer, if visual deliverable) and one strategist are involved in the creation and editing of the deliverables. We ensure your content pieces are error-free and align with both your larger content strategy as well as the intentions of the keyword briefs provided to the writing team.
Although we strongly recommend pairing our content creation and writing services with an organic-focused keyword research component through a content marketing campaign, we also offer a la carte creative services and content writing services.
Search Engine Optimization
Our team is highly experienced in white hat SEO best practices – that is to say the kind of SEO techniques Google encourages, actively avoiding anything that might incur SEO penalties. Most of these SEO techniques revolve around providing accessibility enhancements and shortcuts to help site visitors find and consume the content they're looking for more effectively.
For visual deliverables, this involves minor considerations such as meta data inclusion and file name considerations, in addition to any applicable content guidance from the keyword research.
As previously mentioned, for written drafts we utilize Textmetrics. In addition to its content tools, Textmetrics's SEO components check that your keyword and variations are included in headings and content body an appropriate amount of times (and not too much either).
And of course, our keyword briefs are heavily utilized when drafting written content to ensure any required SEO strategy and topics are adhered to.
We also utilize other SEO tools to draft SEO title and description fields for use with publication.
The end result is a content piece that is not only high-quality, but perfectly optimized to succeed organically, so your content can conquer the SERPs!
Publication & Promotion
Most of our clients prefer us to publish written content we draft for them.
Wth a draft approved by you, we publish your new content to your CMS (usually a custom WordPress website also built by us) and ensure the required SEO aspects are covered, including letting Google Search Console know to prioritize crawling your newly-published page.
As part of publication, we can source stock photography and videos, or create custom infographics as needed.
We can also create related posts on social media and other platforms, typically as supplementary posts promoting your 1st-party post on your website.
Lastly, we offer post-publication promotion of articles through link building and guest blogging. The goal is to acquire quality backlinks from other high-ranking websites to promote the authority of your content and website profile as a whole. Proper outreach can greatly improve the organic potential of your content and can take your website from SERP obscurity to top of page one!
Reporting & Analysis
Measuring results and success is key to any digital marketing campaign. We believe it is important to know your return on investment for SEO and content just as much as it is important to know your return on advertising spend for more transactional campaigns like paid advertising.
In addition to monitoring your website's key performance indicators (KPIs) like SERP rankings for target keywords, domain authority, backlink profile and organic traffic, we also help clients track conversions and assign value to these actions to provide insight into their content marketing campaign performance and ROI. We utilize Ahrefs, Google Analytics, Search Console, and Data Studio to provide up-to-date, accurate and relevant data.
We also use this information to inform our campaign strategy on a monthly basis, identifying new opportunities and iterating on the content pieces or strategies that are producing the best results. In this way, we can limit the effect of diminishing returns when targeting certain audiences or keywords by continually applying our engagements towards that which will produce the best return.
Our content marketing service packages include monthly summary emails, reporting/strategy calls, as well as an online portal to track and comment on your current projects.
SEO Services We Offer
Within the umbrella of SEO are some notable distinctions, requiring different amounts of budget and commitment.
Content Strategy
In marketing, content strategy is the strategy, planning, creation, publication and ongoing analysis of a brand's content. This is often the first service we engage clients with, in order to develop a content marketing strategy for long-term success.
When onboarding for content strategy, an analysis of a brand's status quo and marketing goals is considered. We then utilize our tool sets and experience to make data-driven recommendations on what channels to revise and which to pursue in the future. This initial content strategy service often includes a deep dive into keyword research, another core service we offer.
Effective content strategy also has an ongoing cyclical component in which content is revisited critically and can have several iterations. Remaining critical of existing content and ensuring it remains relevant and grows its (organic) audience over time can be much more cost-effective than constantly looking for new keywords and topics.
Keyword Research & Writing Briefs
Keyword research is the process of finding popular search terms that are relevant to your audiences and capable of being ranked for in SERPs. Basically the constant hunt for topics that are popular, yet not too difficult or competitive for your website's domain authority.
A writing brief is a data-laden document containing key metrics to ensure the organic success of an article written about the researched keyword topic.
Some of our clients have their own writing teams and primarily want guidance on what keywords to write about and how to succeed organically when writing about those topics. The keyword research and subsequent writing briefs we provide to our own writers as part of our comprehensive writing process can also be provided a la carte directly to you, as a standalone keyword research service.
SEO Blog Writing
SEO blog writing is the creation of articles intended to draw in organic traffic. At Jack & Bean, these articles are written about topics that have had keyword research performed and are thus known to be organically viable. Our content briefs then lay out the win conditions for any given topic, to ensure success.
Our most popular type of content writing at Jack & Bean, we write thousands of SEO-focused blogs each year for a variety of business sectors.
With limitless potential, a successful SEO-focused blog will drive the majority of organic traffic for a business website and can provide an additional conversion funnel and revenue stream. Learn more about our start-to-finish content writing here.
Case Studies
A marketing case study is the in-depth analysis of a specific application (or "case") of a company's offerings to demonstrate their effectiveness. These provide context for prospective customers and encourage them to pursue the business's offerings.
Case studies are carefully constructed to be organized and persuasive. They must be easy to follow in order to have a high chance of converting into a sale. Case studies are essentially lengthy, 1st-party reviews provided by you, of you.
Case studies are one of the most popular and effective ways to drive new business. We employ our own content marketing case studies on our website, as our clients often cite them as pivotal in their decision to choose to do business with us over one of our competitors.
Business Copywriting
Copywriting is content intended to compel a reader to take action. Types of copywriting include website product and service pages, print media, and even some types of blogs.
Our professional copywriters can create brand new copy as well as refresh existing content to be more effective. Our team often combines copywriting with our SEO services to create compelling content that not only converts but ranks well with Google.
Understanding prose, complexity and types of content your audience responds most effectively to is part of our copywriting research. We have the ability to perform competitive analysis to ensure your copy is effective at converting into new business.
Alternative Content Formats
In the online marketing industry, alternative content formats are content types other than text. Alternative content formats encompass videos, infographics, podcasts, photography – anything not primarily text-based.
Text is still king online – and probably always will be. Although video in particular has become a powerhouse content format for consumption volume, the near-entirety of organic rankings are still determined by text content in some way.
As a content marketing agency with a strong focus on sustainable organic growth for our clients, Jack & Bean is an expert on content writing. As such, we know when to supplement text content with images, infographics, video, and other alternative content formats.
There are instances where the primary content format should be something other than text. This typically comes in the form of video content (often supported by text) but commonly includes infographics as well.
Multichannel Marketing
Multichannel Marketing is the publication of content across various platforms in multiple forms. Common examples include:
Short form posts and infographics on platforms like Twitter and Facebook
Videos on platforms like YouTube and Vimeo
Podcasts on audio platforms like Spotify and Audible
Email marketing through Constant Contact or Mailchimp
Although most of the content we create is intended for direct consumption on a business's website, sometimes that same content can be repurposed for effective use on other platforms or mediums.
For example, creating a video walkthrough on YouTube of an already-written blog walkthrough posted to your business's website can amplify the exposure of the content, and even prove more useful to some viewers than a written guide.
Sometimes those other marketing channels are even the best primary place of publication, and at times do not even link back to your website, but can independently function as their own lead funnels.
Multichannel marketing is a powerful, holistic approach to providing your audience with content across various channels for increased exposure and engagement.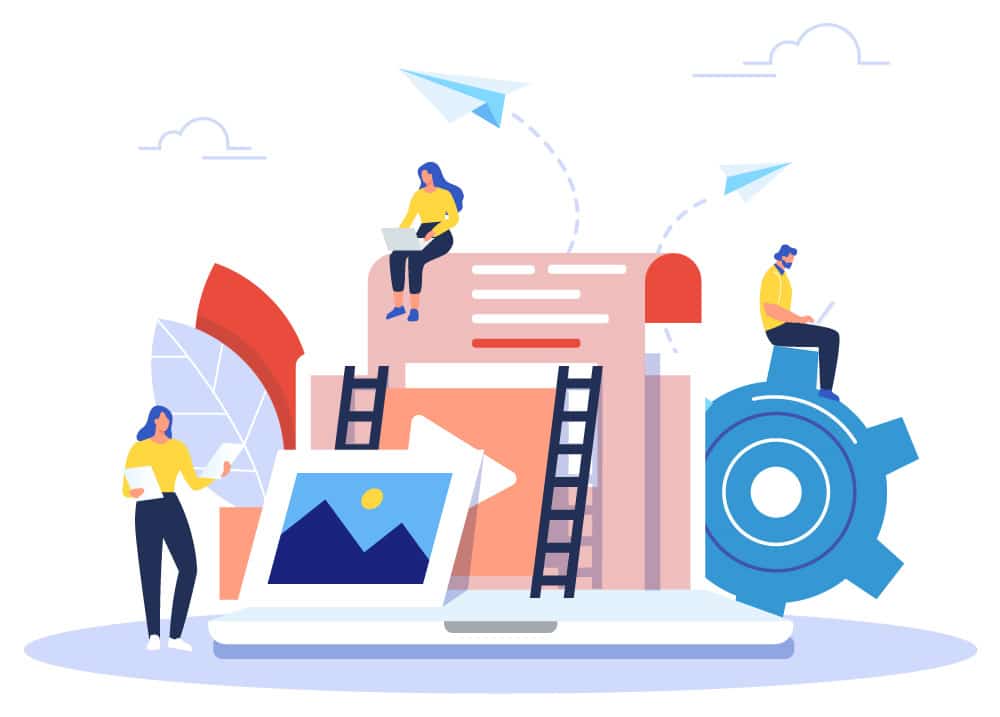 Backlink Building
We consider backlink building a necessary part of any organic-focused content marketing campaign. In fact, quality backlinks are the most important SERP ranking factor for Google, determining the importance and relevance of a webpage's content.
If you want your content to rank organically, you have to do more than just create content. You have to obtain backlinks to it.
Backlink building is strategically sourcing opportunities to link back to your website's content from other domains. Backlink foci can range from simple submissions to business directories to link reclamation of otherwise-broken links within existing articles to creating complete guest blogs to "give away" to other domains.
A healthy number of quality backlinks to your content is often the difference between that content ranking top-of-page one on Google or being lost to the SERP void on page 2+. This is why we offer it as both a standalone service for existing content portfolios as well as part of our Content for SEO packages.