Trying to write web content but can't come up with ideas? We share our favorite sources and show you how to competitively rank for your keyword topics.
In our opinion, writer's block should be a thing of the past. Inspiration for blog content is everywhere, if you just know where to look. Content brainstorming can be a bit time-consuming to do properly. With the right tools though, you can speed the process up immensely. When these tools are paired with proper keyword research, you can be sure your content is both sought after in volume and capable of ranking well with Google – which should be your end-goal.
In this article, we've outlined seven effective categories for content inspiration. Although far from exhaustive, the sources below contain bottomless content ideas, all of which can be returned to over and over again for additional inspiration.
Note that some of these tools make ends meet by utilizing keywords and key phrases. There is often no way around it. The focus, however, remains on finding content ideas. For purely keyword research, see our article on How to Use Ahrefs' Keywords Explorer to Find the Best SEO Topics.
The Most Effective Topic Generation Tools
While there are even more tools a writer can use to find new topics to write about, these are arguably the most effective and popular ones used today. By using one or a combination of a couple of these, you should be well on your way to an endless amount of blog ideas!
0. Update Your Existing Content
This is a bonus inclusion, and not one of the seven sources, but it probably should be. Ensuring your existing content is up-to-date is incredibly important. So before you go and create new content, make sure your existing foundation of content is in order. Not only is this far easier than coming up with and vetting new ideas, updating existing content also has additional benefits:
It gives you an edge over your competition, most of whom will not put the effort into updating their existing content.
You may already have backlinks and established authority with Google to springboard off of.
You likely already have a known audience interested in the content.
Visitors love to see an article has been updated and/or has a recent date, as it shows them you're actively maintaining your content and reassures them of the accuracy and quality of the content.
You might need to adjust keywords and add/remove sections based on trends over time.
Even if just once a year, come back to and review your existing content. Re-read it, be critical, and update it. Have peers review it as well. This will ensure the quality of your content is top-notch and ensure relevance within your niche.
1. Ahrefs Content Explorer: Find the "Low-Hanging Fruit"
Ahrefs' Content Explorer has over a billion keyword topics indexed. After searching for a keyword in it, you can narrow down by filtering by organic traffic (high threshold) and referring domains (low threshold, preferably zero) to reveal the content that people are searching for that is being served up in high volume with virtually no backlinks. Once you've narrowed down a topic's top articles, you can click the details on each one and see what keywords they rank well for as well as the backlinks they have, if any.
Identify "low-hanging fruit" – topics that rank well with few to zero backlinks. These topics should be easy to rank for with just one or two high-quality backlinks, and in rare cases where their DR is low as well, you might even be able to pull off ranking without any backlinks – although you should not consistently expect to do so. Read more about why here.
2. Analyze and Improve Upon Your Competition's Content
Using Ahrefs' Site Explorer, you can dissect your competition's website and content. Start by entering a competitor's domain in Site Explorer. The "Top pages" section under Site Explorer will show you the best trafficked pages, while "Competing Domains" will show you keyword overlap with dozens of other competitors. Lather, rinse, repeat, and down the rabbit hole you go.
3. Study Your Niche Community: Reddit, Facebook, Forums, etc.
Whatever your niche, there are online communities talking about it. Facebook, Reddit, forums – even Slack channels. Find out what their questions and interests are. Interact with them. Even ask candidly what they'd like to see you write in-depth content about. Then take that insight and try to answer a question that hasn't thoroughly been explored, or approach an existing topic with a unique perspective.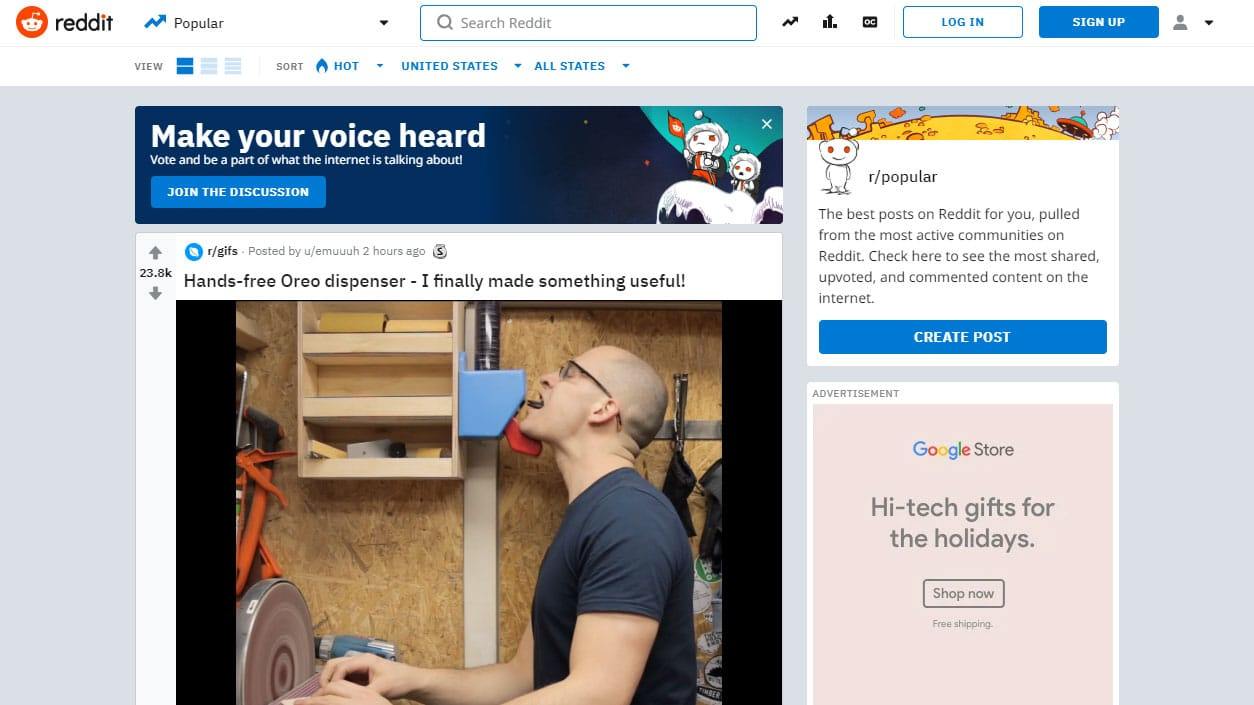 Going directly to the community can be extremely powerful and help you stay relevant. We have found Reddit in particular to be very helpful, with active members consistently contributing to discussion. Just beware to avoid blatant and undeserved self-promotion, as you'll find yourself quickly banned and socially blacklisted.
4. Answerthepublic.com
Answerthepublic.com is an awesome tool that uses the autocomplete results from Google and Bing to generate content ideas. You plug in a topic or subject and have hundreds of search queries spit back at you. You'll then just have to narrow down what you want to write about, as you'll likely be somewhat-overwhelmed with great options. Just be quick about your searches, or that old hipster in the background will get pretty irate…
You can view results in various formats, like questions sorted by verb, prepositions, comparisons, etc. With nearly limitless potential, answerthepublic.com is a great alternative to using Ahrefs' keyword explorer, and a great way to come up with relevant ideas based on the most popular autocomplete results.
5. Ubersuggest
Recently Acquired by SEO legend Neil Patel, Ubersuggest (formerly ubersuggest.io) is a content and keyword research tool quite similar to Ahrefs' keyword explorer. It will show you showing you estimates of search volume, cost per click (CPC), paid difficulty (PD) and SEO difficulty (SD). It also gives you a very quick summary of how difficult overall the keyword is and what your chances are (by percentage) of ranking in the top 100 for the keyword.
Disclaimer about Neil Patel: Neil Patel's site also has other useful SEO tools as well, and arguably the most successful SEO blog on the web. Just be prepared to sometimes have his pricey SEO services pushed on you fairly hard. Wading through his self-promotion and finding straightforward SEO advice can be difficult at times, but there are also plenty of helpful articles to be found – just not easily from the front-end. He has become very successful, but his days of providing selfless SEO advice appear to be waning, and the SEO industry has become quite critical of his now-proprietary approach, and we lament he no longer shares as much as he used to.
6. Identify Problems You Can Write Solution-Articles About
Over time, you have likely have Googled dozens of "problems" you want solutions to, and almost always find a relevant article detailing one or multiple ways to solve that problem. Your goal: just be that article in a niche whose keywords you are capable of ranking for. Easy enough, right?
Any time you can find a problem that you can write about a solution for, you can the use the search tools in Ahrefs as well as the other tools in this article to vet the viability of the topic/question. Detailed above, online communities are a great way to find trending problems that need answering.
7. Keyword Planner by Google *
Google's Keyword Planner is the most accurate source for volume of searches, since Google itself is giving you these ranges. However, many of the stats you'll be interested in won't be available to you unless you have paid ad campaigns setup and running, so this is best used when in conjunction with a PPC, hence the asterisk. Google's Keyword Planner can be used for free, but becomes most powerful when paid.
A Means to an End
Choosing something you're interested in to write about is important, but it isn't the most important factor. You can write about passionate topics all day, but if nobody is searching for them and you aren't taking the necessary steps to rank competitively, your great content will be lost to the internet ether.
You've probably noted our tidbits about keyword research and related SEO goals sneaking their way into this article. We can't really help it, as this step in the content writing process is simply a means to an end. You need to be sure that whatever topics you choose, that they're viable for ranking organically. For more on the general SEO process, check out our Ultimate White Hat SEO Guide.