Yelp is #1 for Reviews of Local Businesses
While Google might be the leader when it comes to internet-wide organic search, and is slowly gaining ground in the review department, Yelp remains a clear leader when it comes to consumer-trusted local business reviews.
Yelp has remained the local business review leader for a few key reasons:
Yelp emerged early on as the industry leader in local business reviews.
Yelp has cultivated its review component into a reliable resource users trust more than any other.
Yelp users are qualified and ready to buy.
Yelp can be used for virtually any type of local business.
If you are a local business and are unaware of or are ignoring Yelp, you need to reconsider. Whatever your feelings towards the platform, local consumers are using Yelp, trusting Yelp, and converting into customers via Yelp.
Nearly 100 million visitors per month use the platform. Investing in a Yelp Ads budget within their platform are one of the most potent ways you can market locally. But why should you care about 3rd party review sites like Yelp – or even Google?
3rd-Party Platforms like Yelp are Dominating
Gone are the days of stopping into a physical store front to glean information about a company. Today, third-party platforms like Google and Yelp are where 3 out of 4 consumers will interact with your local business before potentially converting into a customer. Incredibly, less than 1 out of 4 consumers will utilize a company's website for initial interaction and research. This overwhelming domination of SERPs and consumer preference can't be ignored.
We have entered an era of smart search where it's paramount to ensure business listings are complete and consistent across every search platform. If you aren't on top of your business listing management, you could be missing out on as much as 75% of your potential customers! It is more important than ever to have complete information and be actively managing these 3rd-party listings to attract the most potential customers – and of course one of the most important platforms to be prominent on is Yelp.
Ensuring your Yelp presence is at least complete and accurate is a given must – and we can help ensure your online business listings are managed. But if you really want to ramp up your business' exposure on the Yelp platform and bring in more leads, you need to run Yelp ads. We'll dive into the how and why below.
Yelp Users Are Qualified & Ready to Buy
It's important to keep in mind that consumers trust Yelp more than other review sites – even the likes of Google or Facebook. And people don't come to Yelp just to browse — they're ready to purchase. 97% of people make a purchase after visiting Yelp, with 90% purchasing with in a week and 51% within a day.This trust consumers have in Yelp and their readiness to make a purchase is a great asset for businesses to capitalize on. Even claiming your business and building out a free profile can go a long ways in getting your company in front of the eyes of innumerable consumers.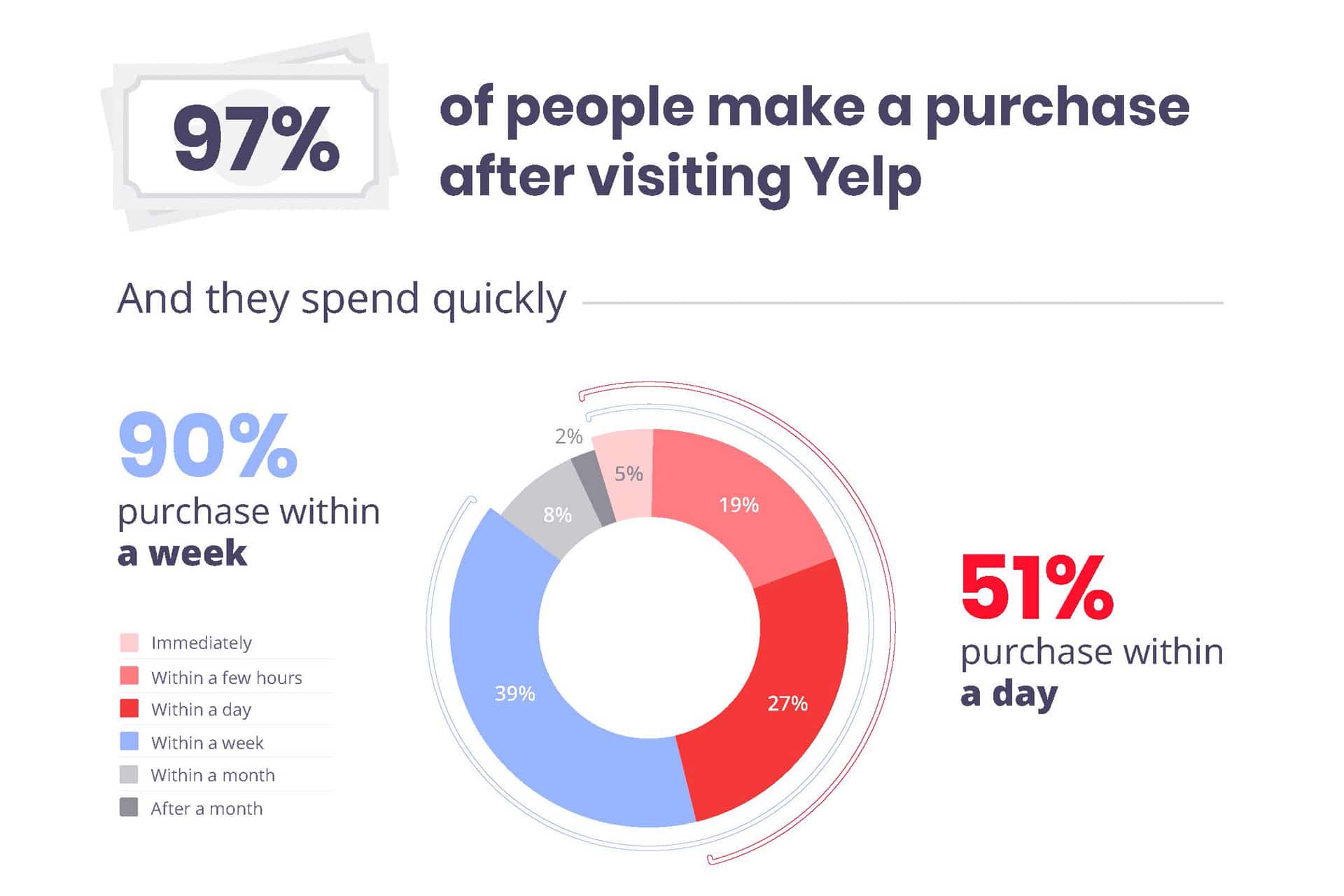 Consumers are on Yelp, so you need to ensure your profile is owned, completed, and up-to-date as a bare minimum. If you're not sure where you should get started on your free page, don't worry. We're developing another guide outlining the best ways to optimize your Yelp profile. We also offer complete local business listing management services at-cost, which includes the basic Yelp profile among dozens of other sites.
How Yelp Ads Are Effective
Yelp has managed to create the most successful customer review platform available for local B2C businesses. Consumers trust Yelp and come to the platform ready to purchase. If you want to dramatically increase your Yelp page activity and qualified customer leads, forking over some ad spend is the only guaranteed way to do so.
So we've established Yelp users are well-qualified buyers looking to pull the trigger quickly – this alone should be reason to use the ecosystem. But how do they work, and what more do you get in addition to the free offering from the platform?
Prioritized Exposure Over Organic Results
Optimizing your business profile results in more people visiting your page, but paid ads will inevitably appear above your listing in search results. Even if you're the top organic result within Yelp's search engine, you won't appear on top of the paid ads. Google operates in the same manner. This is where Yelp advertising – like Google Ads – comes in to give businesses an additional competitive edge and opportunity for exposure within their platform.
When you pay for Yelp ads, your business will show up at the top of any search page, above and before any organic search results, giving your company more views and impressions right off the bat. But you don't pay for the impressions, you only pay when a Yelp user actually clicks through to your page. This is similar to how Google Ads work: search for a solar company, for example, and you'll see the first three or four results are ads, and then the relevance-based organic listings begin.
Yelp allows more room for paid ads than Google, so it takes longer to get to the start of organic search results — where your company would show without paying for ads. By upgrading your account to this paid option, you'll show up higher on the results, increasing your impressions and chances for someone to convert on your profile.
Your Ads Show on Unpaid Competitors' Profiles
On standard Yelp profile pages, competitor ads have dedicated areas that they're shown, so customers have a higher chance of "bouncing" by clicking on the competitor ad that appears. Just the way it is: Yelp funnels customers to paying businesses. This is a bit confusing, but is effective, because once you've effectively "poached" that visitor and they've clicked on your paid result, they will likely stay on your page, because…
Competitors' Ads Don't Show on Your Profile
Yelp advertising with an Enhanced Profile (included at no additional charge for modest advertising budgets) has an additional benefit on the page itself: no competitor ads show up. When you pay for advertising or an Enhanced Profile, your prospective customer will most likely stay on your profile page since you're not immediately competing with other companies.
4) Yelp Tracks Detailed Metrics For You
Like with anything in marketing, tracking and analyzing your results show you what's working and what's not. Yelp also has its own data aggregation section that shows you how many impressions you were getting before and after you started advertising with them.
By tracking the clicks that convert to leads throughout your campaign, you can make an informed decision whether this form of advertising is generating a positive return on advertising spend (ROAS). We're also happy to help manage your Yelp Ads, at no cost to you!
Your Audience on Yelp
One of the key elements to any great content marketing strategy is knowing who your audience is and where they spend their time online. This gives you the knowledge to direct your time and effort in the right channels, getting the most for your time invested. The good news with Yelp is that any local business in any industry can expect some of their potential customers to be on this platform searching and comparing their options – and as mentioned before, Yelp consumers are qualified and looking to buy.
Consumers on the Yelp platform search for food, services, and products, and are generally looking for companies they aren't as familiar with as, say, McDonald's (although even popular chains undergo Yelp scrutiny). Searcher intent for SMBs reveals that Yelp is ideal for small to medium-sized businesses. While certain sectors will be more competitive to play in, such as the fast food and restaurant industries, most industries realize excellent returns on their Yelp advertising spend.
Can Yelp Ads be Wrong for My Business? (Yes!)
Most local businesses – including ones without a physical storefront – can dramatically increase qualified leads with a Yelp advertising budget. So if you're a local business, odds are it is well worth advertising on Yelp. In rare instances, however, we may determine that a Yelp advertising campaign might not be appropriate for your company.
No Local Offerings
If you don't have any local offerings, you may not be a good fit for Yelp ads, as it's a local-driven platform.
B2B Only
B2B businesses often have a smaller market share as well, and might have limited budget opportunities, depending on the local market.
Strong Negative Presence on Yelp Platform
If you have a strong negative presence on Yelp, driving traffic to your page is likely not going to produce a good ROI. Yelp consumers are looking to make informed decisions, and they will read reviews. This also likely indicates an issue with your business that merits analysis.
The above McDonald's has a scalding 1-star average out of a sizeable 34 reviews. Were this our client, we'd recommend they not waste their time with Yelp Ads until this has been corrected, as well as taking a detailed look as to why this is occurring, including responding to reviews consistently and quickly.
Not Ready? Start with Cheaper Page Upgrades!
Not quite ready for Yelp ads? Don't fear! There are a few upgrades you can take advantage of to optimize your profile even more. These include an editable slideshow, CTA buttons, and a highlight bar. These lower budget customization options can help your listing stand out once a customer reaches your page, but won't necessarily bring with it the increase in traffic that paid ads will.
Yelp Ads: A Reliable Way to Grow Your Local Business
Yelp advertising has many different options for businesses of all sizes and industries. We've found in our experience as a Yelp Certified Partner that there are many ways to make their ad platform work for SMBs and B2Cs. Whether you need to manage a smaller budget or have very specific goals you want to achieve, we can help find a strategy that works for your business.
If you're looking to grow your business and would like a free consultation regarding Yelp Advertising, contact Jack & Bean today! Whether it's leveraging Yelp advertising or growing your content marketing plans, we'll objectively audit your business' niche and determine which strategy is most effective for you.