Full Rebranding Including Name Change
WordPress Website with Patient Tools
257% Organic Traffic Annual Increase
Identified OoLi Orthodontics' Marketing Challenges
Orthodontist Dr. Park and OoLi Orthodontics of Phoenix, Arizona had an outdated static website that was showing its age. Much of their print material was consistent with that same older branding that the business had outgrown. He and the staff wanted a more modern and sleek brand to represent their beautiful new offices in Phoenix and Tempe they had recently moved into.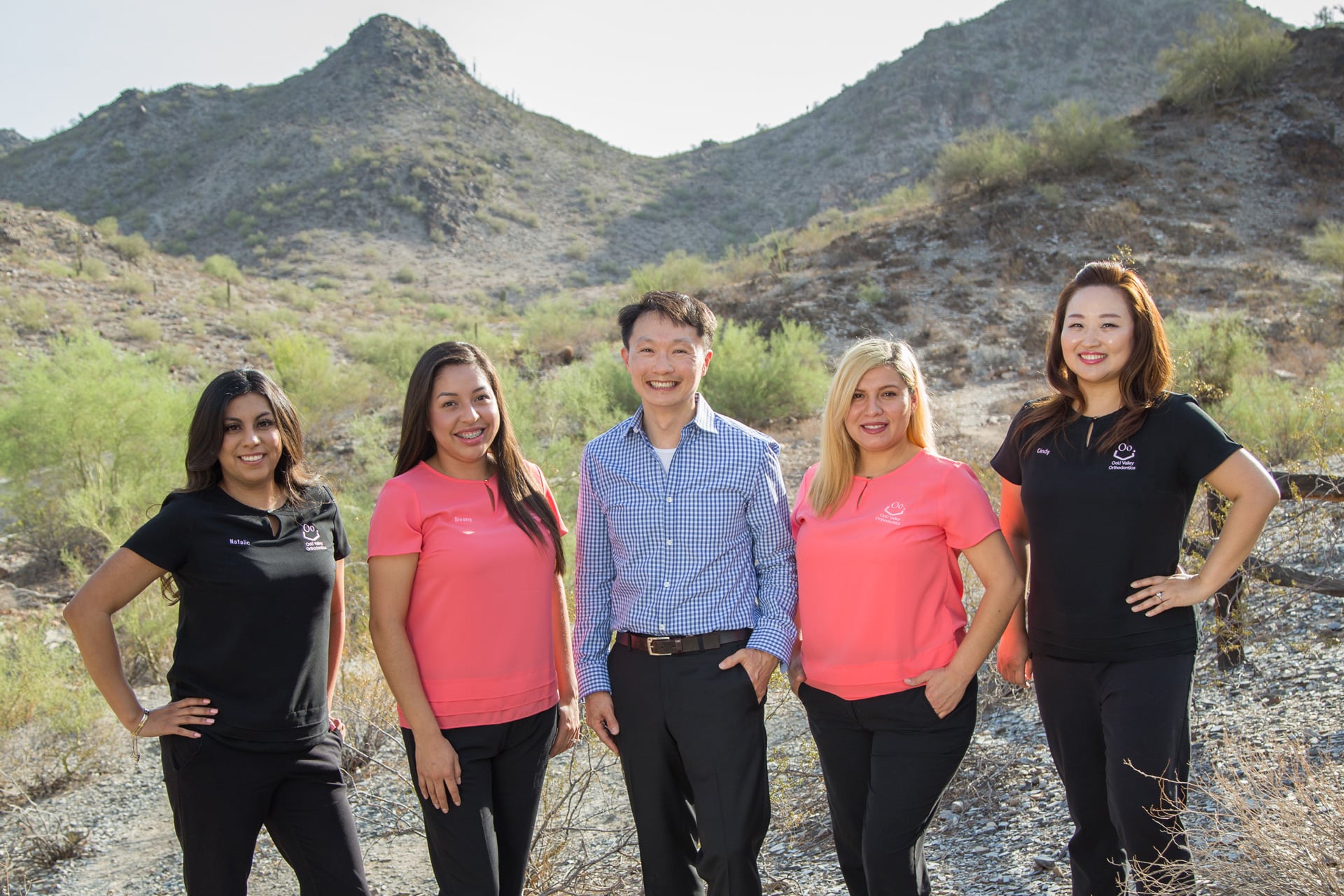 Dr. Park also desired to provide prospective patients more online resources and conveniences prior to treatment. He also wanted a solution for patient forms to be filled out securely online and be stored digitally, as they had thousands of physical patient files that were taking up a lot of space in the office.
Most importantly, Dr. Park aspired to increase the company's organic website traffic towards the goal of growing additional sustainable business. This was becoming particularly important, as general dentists have begun to bring braces in-house and refer out to orthodontist specialists less. Inferior but cheap solutions like Smile Direct Club have also chipped away at the market share of orthodontics.
Crafted a Full Modern Rebrand & Name Change
Although most of the branding was up for revision, Dr. Park wanted to retain their existing logo, which was his own creation that reflected the "OoLi" name in a friendly smile. "OoLi", by the way, is a Korean possessive adjective meaning "our", and is used to describe a relationship to something important. We developed his logo first, before moving onto other branding elements. We encased it in a stylized square to highlight it a bit better, to stand out next to the same text it was based on.
In the interest in both his physical branded collateral and his website and domain, we recommended Dr. Park consider dropping the "Valley" from his business name. We felt the con of the lengthened business and domain names with "Valley" included outweighed his intended pro of representing the Phoenix valley. "OoLi Valley Orthodontics" became simply "OoLi Orthodontics", and "oolivalleyortho.com" became just "ooliortho.com".
Through several rounds of consultation, we settled on a new color scheme with complimentary yellow and gray tones. The colors chose were intended to be both cheery and calming, without being too loud or dissonant, which we felt his previous color combinations were.
With the client's preferences realized, we put together comprehensive branding guidelines. This new branding quickly made its way into updated interior and exterior signage, print collateral, the new planned website mockups, and completely new paint schemes at both Phoenix and Tempe office locations. The Tempe office is pictured above, with our interior signage and paint color schemes featured.
Created a Responsive & Feature-Rich WordPress Website
Although well-established locally online, oolivalleyortho.com was over 10 years old and was showing its age. The site was developed with a casual child-oriented feel at the time of inception in 2005 intended to stand out and feel warming. The effect over time though was it now felt particularly unprofessional in comparison to modern orthodontic industry trends that were sleek and clean. It also was a static HTML website that was not mobile friendly and difficult to update without web development knowledge. It also had minimal features beyond text and images, and lacked consistent uniformity.
Incorporating OoLi's new branding, we developed a modern WordPress-based website that was easy to update and mobile-friendly. The new site has a modern and professional feel while remaining unique and true to Dr. Park's values of personal attention and comfort. We provided several thousand words of professional copywriting for the new website, with almost all new content. We also arranged for professional photography of the office locations and staff.
Towards Dr. Park's goal of online patient tools and modern conveniences, we provided several advanced functionalities through the WordPress website. We integrated secure online patient form signing, so patients could fill out their required medical and insurance forms before arriving, and eliminating large paper files for each patient.
To make scheduling consultations even easier, we added an interactive calendar-based scheduling so prospective patients could book their own appointment slots online at their convenience. To add an extra personal touch and convenient real-time question answering, non-invasive live chat capabilities for site visitors was added, so they could live chat with the staff of OoLi Orthodontics.
SEO & Content Writing Yielded 2.5X Organic Traffic
After some discussion with the client coupled with extensive keyword research specfiic to his niche, we crafted a long-term white hat SEO strategy for OoLi Orthodontics that included several phases of focus and our usual signature key SEO components. Although only a portion of this long-term plan has been carried out at the time of this writing, we still can already report dramatic results.
We immediately determined that the current static website content, particularly the company's braces and Invisalign services, were vastly underrepresented. The website simply needed more professionally written content for its core pages. These large pages would serve the practical purpose of more extensive resources for visitors and prospective patients.
The natural progression of this effort would be that Google would index the popular pages and they would rank for many additional keywords related to that content. With Dr. Park's expert oversight, we wrote tens of thousands of words across dozens of pages, and turned a few small service pages of just a few hundred words into large organized tiered resources.
We also managed to secure guest blogging opportunities and other high quality backlinks to enhance ooliortho.com's backlink profile, which was also crucial, since backlinks are the most important ranking factor for organic search results. The Domain Rating as measured by Ahrefs.com tripled from 9 to 27 (out of 100) in on year's time, confirming that a much stronger backlink profile had indeed been achieved.
To solidify OoLi Orthodontics' online presence, we utilized Yext to sync the correct business data across all directories and social media, including Google My Business, Yelp, Facebook, and hundreds of others. This was crucial in suppressing and updating incorrect listings after both of OoLi's offices had changed to new locations and the business and domain names had changed. Jack & Bean is a Yext Certified Partner.
Within just a 12 month period, ooliortho.com also had received nearly three times (257%) the organic traffic it had the period prior to beginning SEO efforts with Jack & Bean. The increase in traffic also resulted in more engagement on a per-visitor level as well. Site visitors spent more time on ooliortho.com and navigated to more pages within the site than the prior 12-month period. This validated the quality and relevance of the professionally written content provided by Jack & Bean.
Through these and many other smaller SEO efforts, it took less than a year for ooliortho.com to go from ranking for around 100 organic keywords to over 800 – that's eight times the keywords ranking in the top 100 for Google, where they are steadily climbing. A large amount of those rankings have made it to the first page of Google, where almost all clickthroughs occur.
Despite an ever-increasingly crowded industry, where orthodontists are becoming more and more marginalized by cheaper, lower quality alternatives, OoLi Orthodontics is sustaining its business. It now receives a much larger portion of business from organic internet-related inquiries, and remains a satisfied client of Jack & Bean.